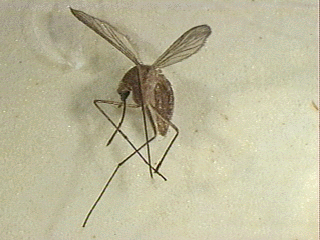 Although mosquitoes are a nuisance in many populated areas and have become a health concern with the latest information regarding the spread of the West Nile Virus, they do fulfill a vital ecological function in natural settings. Mosquitoes serve as food for fish, birds, bats, frogs and insects. However, personal comfort and health are factors we must consider when determining when and how to control mosquito populations around our homes and recreational activities. Please read the following information we are providing for your consideration.
COMMON MOSQUITOES
Most pest mosquitoes in the United States belong to one of three genera: Aedes, Culex, or Anopheles. Within these genera, 11 species have been identified as carriers of the West Nile virus.
Aedes:
Some are referred to as "floodwater mosquitoes" because they lay their eggs on damp soil or vegetation in areas that can be periodically wet. The eggs remain dormant until they are flooded and conditions are favorable for hatching.
Other species prefer to lay their eggs in tree holes or artificial water containers. The eggs are laid above the water line waiting to be inundated with water to hatch.
One species referred to as the Asian tiger mosquito is of particular concern because of its rapid spread within the United States since 1985. It also breeds easily in any water-filled containers, which makes breeding sites very common.
Culex:
These species prefer to breed in quiet standing water with large amounts of organic material. The body of water can range from small containers to large ponds. The eggs are laid on the water surface in groups of 100 or more eggs.
Anopheles:
These species breed in permanent bodies of fresh water with abundant aquatic plants. The eggs are laid singly on the water surface and are supported by 'floats' on each side.


LIFE CYCLE
Mosquitoes have four life cycles: egg, larva, pupa, and adult.
Eggs laid on the water surfaces hatch in 1 to 3 days. Eggs laid above the water line remain dormant until flooded.
Larvae, referred to as 'wigglers', that hatch must live in water (floating on the surface) to survive. The larvae breath through an air tube and filter food through mouth brushes. Depending upon the species and conditions, the larval stage can last from 5 days to several weeks.
Pupae, referred to as 'tumblers', are the third phase. Pupae can often be seen bobbing in the water or breathing at the surface. This stage does not feed and the adult should emerge within 2 to 3 days.
Adults emerge from the waters surface and fly away.

FEEDING
Only the adult female of each species takes blood that she needs to develop and lay eggs. Adult males feed on plant nectar.
Most mosquitoes feed between dusk and dawn. Their daylight hours are spent resting in dark and damp places. However, some mosquitoes feed during the day and others both day and night. In other words, always use caution during peak mosquito breeding seasons until their habits are identified in your area.
MOSQUITO 'SEASONS'
Usually, mosquitoes may breed at any time from the beginning of spring until the first hard frost. The species, the temperature, and the amount of rainfall control populations of mosquitoes. During periods of abundant rainfall, eggs may be laid continuously and; when temperatures are high enough, development can be completed within a week. This can result in 'epidemic' populations of adult mosquitoes in regional areas.
Most mosquitoes pass the winter in either the egg or the adult stage. This often explains why thousands of mosquitoes suddenly appear following the first rainfall in spring or summer when temperatures are prime for them.
MOSQUITOES AND DISEASE
Female adult mosquitoes transmit diseases through their feeding habits. When blood is sucked from an infected bird or mammal, the virus, complex virus or parasite is taken into the mosquito. Once the organism multiplies within the mosquito enough to infect her saliva, the disease is transmitted when she feeds again.
Commonly known mosquito-transmitted diseases found within the United States include: St. Louis encephalitis, LaCrosse encephalitis, Eastern equine encephalitis, Western equine encephalitis, West Nile virus, and dog heartworm. Rare occasions of Dengue fever have also been reported.
The uncommon spread of the West Nile virus that was first noticed in Queens, New York in 1999 has been attributed to migratory birds on the east cost. The infected birds migrate south during the winter months making a perfect overwintering receptacle for the virus. The infected birds mingle and spread the virus to previously uninfected birds allowing the virus to spread. In spring, the migratory birds return north and continue to spread the virus through mosquito activity. There is no evidence to indicate the disease can spread directly from one animal to another.
To date, the West Nile virus has substantially increased the mortality rate of regional bird species and horses, but has not resulted in the human mortality rate once feared. The experts report "exercise caution not fear".
The following Health Risks For Humans Relating to West Nile Virus was provided by Cornell University:
Birds are far more likely to be infected than humans.
Birds are far more likely than humans to become ill by West Nile virus.
Most mosquitoes are not infected with West Nile virus.
Most mosquito bites will not result in a West Nile virus infection.
The disease appears in humans and in August and September (in the Northeast).
Most people who become infected do not become ill.
Older and immuno-compromised individuals are at greater risk of becoming seriously ill.
Children are NOT in a higher risk group.

WAYS TO REDUCE MOSQUITO SOURCES
Remove all water-holding containers from the property, including toys, tires, cans, etc.
Clean and drain all roof gutters of debris to prevent standing water.
Inspect flat roofs and remove any pooled water no more than every 5 to 7 days.
Drain and seal any tree holes so they do not collect water.
Change water in birdbaths and wading pools every 5 to 7 days.
Fill in any low spots in yards that retain rain or irrigation water for more than 7 days.
Clean drainage ditches and culverts so they do not collect water.
Inspect flowerpots, container gardens or other receptacles around structures for mosquito larvae to be removed.
Stock ponds or other permanent bodies of water with mosquito eating fish or treat waters with commercial larvacides to prevent mosquito populations from developing.
Change exterior lighting fixtures to yellow bulbs or sodium vapor bulbs that are less attractive to mosquitoes.
Use window shades or covers at night to prevent interior lighting from attracting mosquitoes.

PERSONAL PROTECTIVE MEASURES
Avoid outdoor activities during peak mosquito activity times, usually dusk to dawn.
Avoid possible mosquito breeding or resting sites whenever possible.
Wear long-sleeved shirts and long pants if mosquito activity is suspected.
Use skin mosquito repellents whenever necessary (please read the article, Insect Repellents Provide Safe Relief With Proper Use).
Use clothing mosquito repellents whenever necessary (please read the article, Insect Repellents Provide Safe Relief With Proper Use).

MOSQUITO TRIVIA
Q: How do mosquitoes find new hosts?
A: By sight (they observe movement); by detecting infra-red radiation emitted by warm bodies; and by chemical signals (mosquitoes are attracted to carbon dioxide and lactic acid, among other chemicals).
Q: How fast can a mosquito fly?
A: Mosquitoes are estimated to fly 1 to 1.5 miles per hour.
Q: How far do certain mosquitoes fly?
A: Many mosquitoes fly 1 to 20 miles from their hatch site; however, Saltmarsh mosquitoes can migrate 75 to 100 miles away.
Q: How far away can a mosquito smell you, or a cow or other host?
A: Mosquitoes can smell you 20 to 35 meters away.